EXHIBITOR INTERVIEW: CARRIER MIDDLE EAST EQUIPMENT
In talks with Vineet Kashyap, Managing Director, Carrier Middle East Equipment.
Carrier will be exhibiting its latest products at HVAC R Expo Saudi. We spoke to the Managing Director, Vineet Kashyap; here's what he told us as he prepares to participate in Saudi Arabia's largest dedicated HVAC R business event.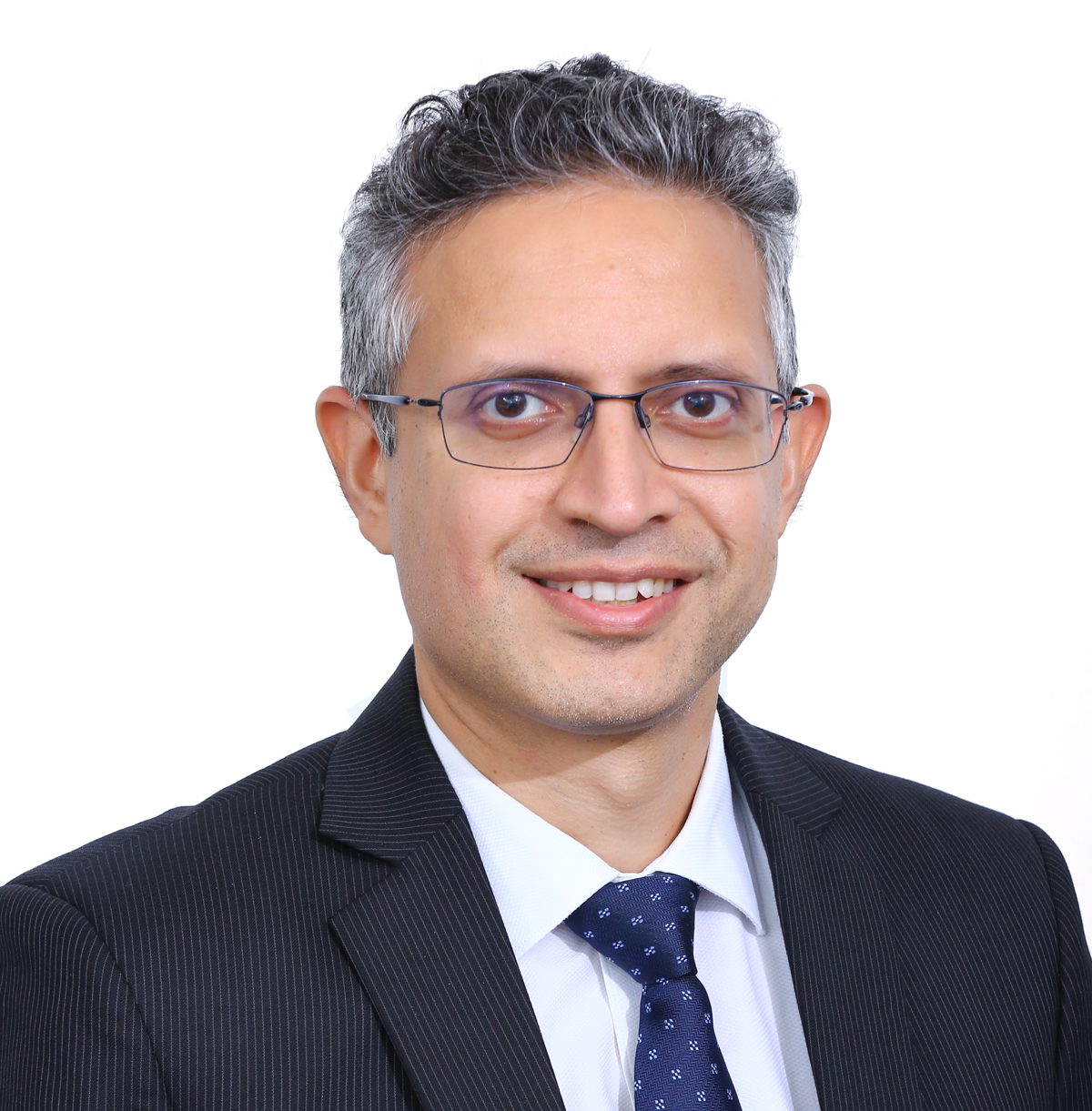 1. Can you describe the pace at which the HVAC R market in Saudi Arabia expects to move in the next 5 years?
Saudi Arabia is one of the most exciting places for HVAC&R. The natural climate and demographic/ economic factors will continue to drive growth in HVAC&R. On one side initiatives under the Vision 2030 will fuel a demand in new build projects, on the other hand the government efforts on standardization and energy efficiency will imply a move towards higher quality and more efficient products with opportunities in retrofit of old equipment in favor of more efficient ones.
On new build there are many areas of opportunity. The focus on tourism in the country, for example, and the implementation of the open tourist visa and increasing investment in entertainment infrastructure, has boosted wider business opportunities for the sector. Additionally, the increasing number of ambitious projects, such as NEOM, Qiddiyah, Red Sea project, and Amaala will continuously require the latest and most competitive HVAC&R solutions.
As we see, in line with Kingdom's strategic sustainability goal of achieving significant energy savings, the regulatory bodies (SASO and GSO) are an active participant and supporter for the standardization of the HVAC R sector, raising the quality of products on the market and in turn promoting competitive innovation in the field. In addition to this, formation of Saudi Arabia's Super ESCO to fund and manage the Kingdom's retrofit projects will result in improving energy efficiency and savings across the existing buildings.
2. What are most exciting HVAC products being introduced by Carrier when it comes to the new mega developments?
At Carrier we are constantly innovating and staying ahead of the technology curve in both residential as well as commercial HVAC products. The current focus is to innovate products that stretch the limits on efficient operation at high ambient temperatures such as those experienced during summers in Saudi Arabia and to blend connected solutions and IOT for better performance and maintenance. Some state-of-the-art products that have been recently launched in Middle East are as follows:
Carrier AquaEdge 19DV Centrifugal Chiller
Carrier's AquaEdge water-cooled, oil-free chiller technology was introduced to the HVAC industry with the most advanced technologies such as EquiDrive compressor, Ceramic bearings, PUREtec refrigerant R-1233zd(E), falling film evaporator and SmartView control. The breakthrough technology is a first in the Middle East and delivers on customer demands such as excellent performance, leading efficiency and environmental responsibility. It was most recently awarded the Green Building Product of the Year in the Energy Management category at the MENA Green Building Awards.
The AquaEdge 19DV adopts multiple technologies to optimize itself for robust operation in various demanding scenarios. For instance, the Greenspeed intelligence, together with the unique compressor design that deploys one inlet guide vane for each of two stages, supports stable chiller operation at all times, even at 10% part load. This means consistent performance during off-peak hours in office buildings where computers operate at night. In addition, PIC5+ controls allow swift restart in just 30 seconds in case of an unexpected power failure.
· Carrier AquaForce 30XV Air-Cooled Variable Speed Screw Chiller
The new AquaForce 30XV air-cooled variable-speed screw chiller with Greenspeed® intelligence continues Carrier's legacy of providing customers with the most efficient heating and cooling equipment in the HVAC industry. The new system uses the environmentally-balanced refrigerant, Puron®, which does not emit any ozone-depleting chemicals and is non-flammable and non-corrosive.
Carrier's AquaForce® 30XV air-cooled screw chiller is highly versatile and energy-efficient with a range of benefits, including tiered capacity offerings from 140 to 500 tons as well as a variety of innovative features. To ensure performance and efficiency, the AquaForce® 30XV has variable frequency drives that are IP55-rated and fully air-cooled by ambient air. It also utilizes a next-generation rotary screw compressor, which is designed and optimized specifically for variable frequency drive operation.
The AquaForce® 30XV offers a footprint that is significantly smaller on average versus conventional designs while achieving best-in-class industry-leading IPLVs above 21 and fully meeting ASHRAE 90.1-2016 requirements.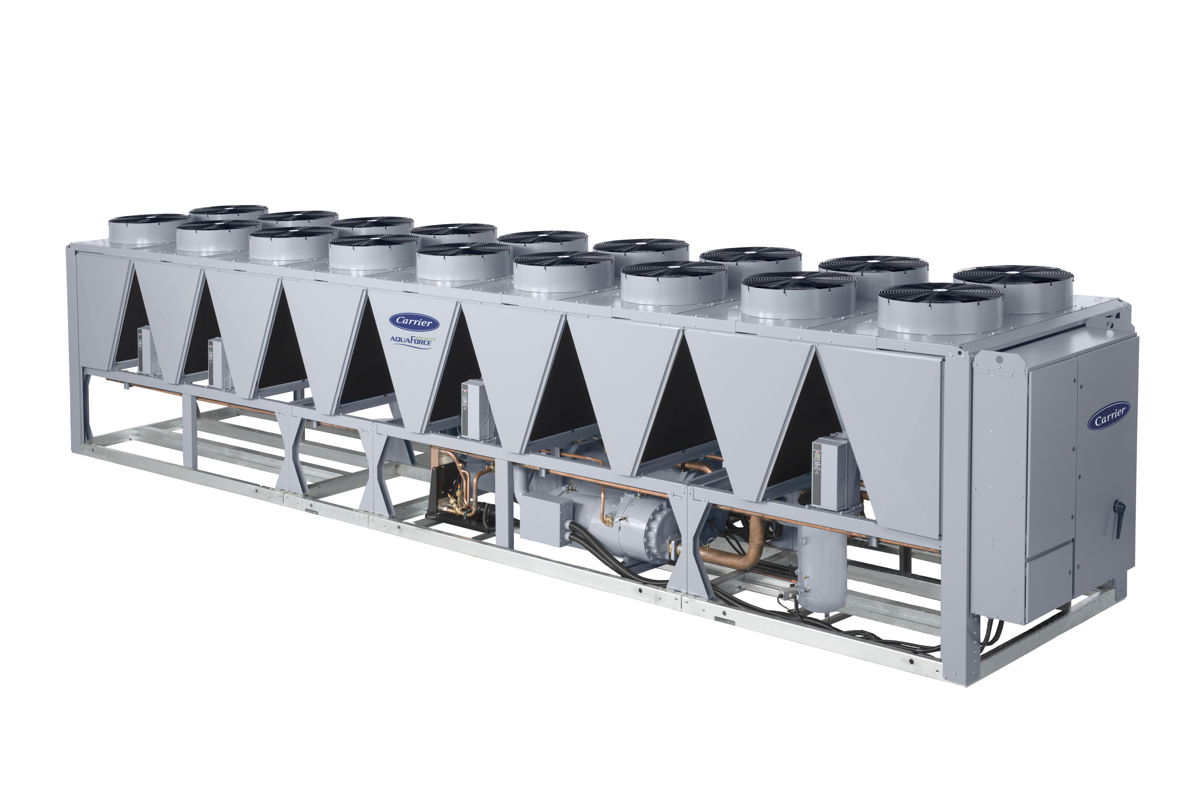 · Carrier AiroVision 39HQM Air Handling Unit
Carrier also introduced the AiroVision 39HQM air handling unit (AHU), which comes with the factory-installed starter panel, and offers best-in-class casing strength, modular size configuration options, high corrosion resistance and indoor air quality. The AiroVision 39HQM comes with user-friendly selection software and is easy to maintain. It was most recently awarded the Green Building Product of the Year in the Indoor Air Quality category at the MENA Green Building Awards.
3. What does Carrier offer when it comes AI based platform that will influence the HVAC sector?
EcoEnergy Insights, which is also a part of Carrier, offers CORTIX™, an AI-powered platform that uses building, site and equipment data to deliver exponentially improved building comfort with enhanced energy efficiency and reduced operating costs.
While connecting HVAC equipment like a chiller has been possible for many years now, the question has been how do companies use the huge amount of data generated to effectively deliver value to customers in terms of higher uptime and continuous monitoring. The CORTIX platform does this through the use of an advanced AI/machine learning algorithms, which leads to higher thermal comfort while improving on energy efficiency and associated operational costs – goals that have traditionally been at contradiction for building owners and operators.
CORTIX by EcoEnergy Insights is an AI-driven IoT technology that can solve typical problems faced by building operators through the combination of the powerful AI engine and domain expertise. It has successfully delivered solutions to multi-dimensional problems in the spaces of building operations, comfort, energy efficiency, safety, security, and combinations of competing problems such as advanced comfort along with enhanced efficiency and reduced operations cost.
4. How do you see VRF coming up as a core technology and what does Carrier have to offer to the ME market:
Innovation is at Carrier's core, proven by Carrier variable refrigerant flow (VRF) Xpower technology that circulates the minimum amount of refrigerant needed for each individual zone to satisfy building load. Since there are no ducts, this eliminates the energy waste associated with the duct loss. A single outdoor VRF condenser can power up to 64 independent indoor units, depending on the system. Carrier offers Xpower VRF solutions with the mini VRF (side discharge) capacity ranging from 4HP to 6HP and top discharge VRF ranging from 8HP to 20HP having a combination of up to 56HP. Following are the key features of Carrier Xpower VRF:
The unit incorporates a DC twin-rotary compressor with diamond-like carbon (DLC) protection coating on the compressor's vane.

Xpower top discharge outdoor units have two compressors each and are operated in variable patterns to ensure equal run time on all compressors and also deliver most efficient operation between 30-80% loads, which increases the compressor reliability and also enables operation if one compressor is removed

The Infinity Variable Control has the ability to adjust the compressor rotational speed in a near seamless 0.1 Hz steps.

New three-row heat exchanger design with 7mm tubes increases the total number of passes and improves both system performance and efficiency.

Top discharge condensing units have a four-sided heat exchanger design to ensure maximum air flow rate across the entire coil. The three-way variable heat exchanger design allows the CDU to select the most efficient heat exchanger size, which precisely matches the indoor capacity load.

The outdoor fan is driven by a DC inverter variable speed motor totally-enclosed with permanently-lubricated bearings, ensuring smoother uninterrupted air flow. Every blade of fan is designed with a unique profile inspired by reverse-arc shaped wings, a solution that guarantees a smoother airflow without turbulences and is made of non-corrosive type material styrene-acrylonitrile copolymer including glass.
The entire system can be run from a central location or monitored remotely – perfect for diverse applications with a range of heating and cooling needs. Timely alerts aid in maintaining the system and keeping it running at its most efficient.
5. You return to HVAC R Expo with a large participation, how has Carrier benefited from the event in this last year?
After 3 successful events in Jeddah, HVAC R Expo moved to Riyadh and provided opportunities for contractors, developers and end users in central region to interact with the leading HVAC brands to discover the latest innovations, technologies and advancements in the realm of Air conditioning.
In accordance with the blueprint presented under Saudi Vision 2030, vast construction projects continue to develop, especially in the social and transport infrastructure. This means Saudi construction sector will witness a significant growth in the coming few years. Some of the iconic Mega-Projects coming up include NEOM Mega-City, the Red Sea Project & Qiddiya Entertainment City.
Bringing the HVAC Expo event to Riyadh is a significant decision. Riyadh not only happens to be the political and administrative center of Saudi Arabia but also is the headquarters of the country's central government bodies. This dedicated HVAC event provides an opportunity for these decision makers to see the latest products offered.
Moreover we are happy to participate in this annual forum as KSA is a key geography for us and we are very committed to the segment. We get to meet customers and regulators during the expo and explain our offerings to them, while learning from their experience of what they need.
I want to applaud dmg events on the successful hosting of the last 4 HVAC R Expo events that has served as a platform to bring the industry professionals together.
Meet with Carrier at HVAC R Expo Saudi - Location: Hall 1 Stand 1A10
To set up interview please contact: