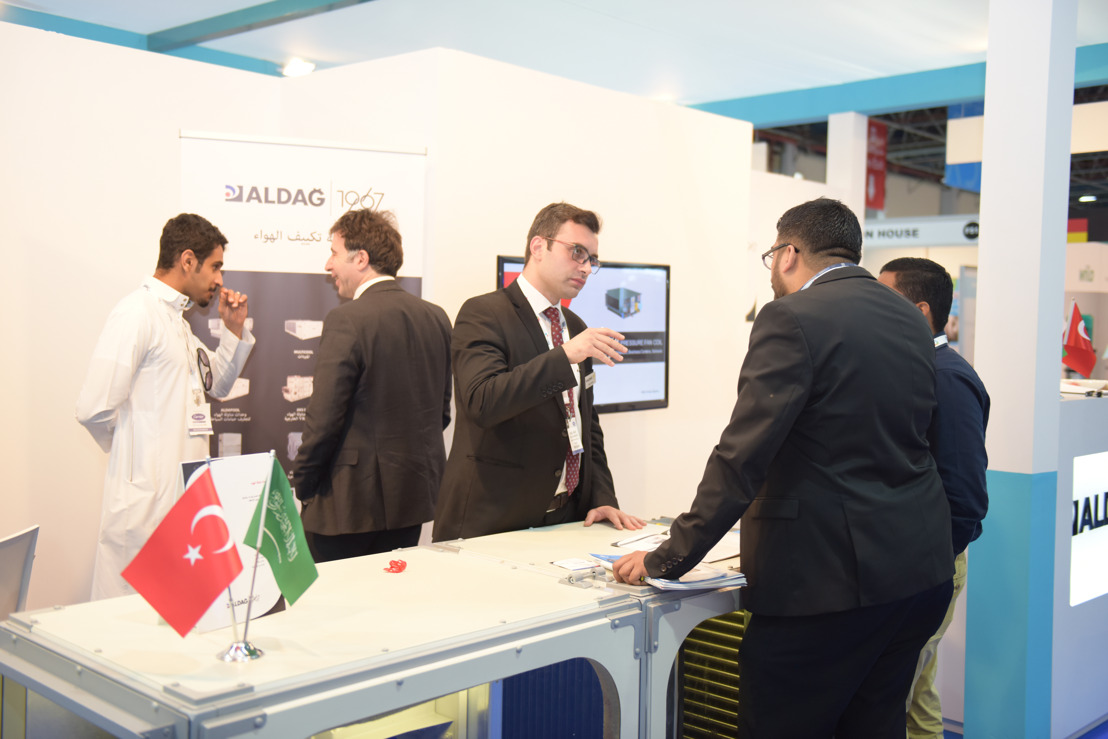 INTERNATIONAL LEADERS EYE SAUDI'S USD6.36BN HVACR MARKET
The HVACR market in Saudi Arabia expects to reach a value of up to USD6.36 billion by 2022, according to TechSci Research in a report commissioned by HVACR Expo Saudi.
In its 4th edition, HVACR Expo Saudi will showcase prominent international brands from over 15 countries.
The event will run from 28-30 January 2019 at the Riyadh International Convention & Exhibition Center (RICEC).
With the HVACR market in Saudi Arabia expected to reach a value of up to USD6.36 billion by 2022, the region's most anticipated HVACR event continues to gain interest from global industry leaders looking to invest in the Kingdom.
Backed by strong support from the Saudi Standards, Metrology and Quality Organization (SASO) and GCC Standardization Organization (GSO), HVACR Expo Saudi is gearing up for its 4th edition in Riyadh this coming January.
The event will bring together the top international and local HVACR players for three days of business and networking from 28-30 January 2019 from. Exhibitors will include the likes of Carrier, Zamil AC, YORK, Midea, Samsung, Alessa Group, LG, SKM, Caleffi Hydronic Solutions, VTS Clima, Hitachi, Haas, Gibson, Rheem, RIG, BNF and many more.
Event Director for HVACR Expo Saudi, Roni El Haddad, comments: "Saudi Arabia contributes close to 2% of the global HVACR market and this has not gone unnoticed by major industry players abroad. We are witnessing a growing interest from these brands to present the latest HVACR products to the Saudi market, and to offer the technologies capable of pushing forward this promising sector.
"Thanks to the development of new regulations, and ongoing discussions between local market leaders and Saudi Authorities, international brands planning to enter the market or to expand their local production opportunities can look forward to strong business relations going forward."
HVACR Expo Saudi will host industry leaders from over 15 countries including Turkey, China, Italy, USA, Kuwait, Malaysia, Singapore, Egypt, United Arab Emirates and KSA to showcase the most innovative industry solutions.
Mr. Faizal Babu Pallathody, Managing Director at VTS Clima, says: "Extreme climatic conditions in Saudi Arabia, changing lifestyles and rising number of government initiatives towards restructuring the country's oil-dependent economy are expected to boost demand for HVAC systems in the country.
"Growth in the market is anticipated to be driven by increasing integration of HVAC systems in smart products and continuously rising demand for energy-efficient HVAC systems."
To keep visitors up to date with the latest industry trends, HVACR Expo will offer a free-to-attend, CPD (continuing professional development) certified workshop agenda. Responding to the popularity of workshops conducted in the previous edition, and increasing its capacity to accommodate twice the number of delegates, the agenda will run across two workshop theatres conducting 30 sessions.
In 2018, HVACR Expo Saudi welcomed over 6000 industry professionals from more than 25 visiting countries and was 20% larger than the previous edition. Along with 75 exhibiting companies, the event featured 20 workshop sessions, exclusive product launches and the EU-Saudi Arabia Energy Efficiency Meeting.
Organised by dmg events, and co-located with FM Expo Saudi and Saudi Clean Expo, HVACR Expo Saudi will run from 28 to 30 January 2019 at the Riyadh International Convention & Exhibition Center(RICEC). The event enjoys support from Carrier (Platinum Sponsor), Zamil Air Conditioners (Gold Sponsor), Al Salem Johnson Controls and YORK (Silver Sponsor), HH-Shaker & Midea AC (Exclusive Registration Sponsor), and Al Essa Industries Co. and Crafft (Official Catalogue Sponsor).
For more information on HVACR Expo Saudi:
#HVACRExpoSaudi
For media inquiries, please contact:

Elisha Dessurne Content and Public Relations Manager, dmg events