MEET POLYPIPE MIDDLE EAST
Polypipe Middle East will be exhibiting at The Big 5 Saudi 2019. We've spoken with its General Manager, Philip McCowen.
Polypipe is the UK's largest plastic pipe systems manufacturer with an enviable reputation amongst installers, contractors, stockists and specifiers. With an unrivalled portfolio of above ground and below ground drainage, storm/surface water management and plumbing systems, Polypipe Middle East is a market-leading expert of managing water in the built environment.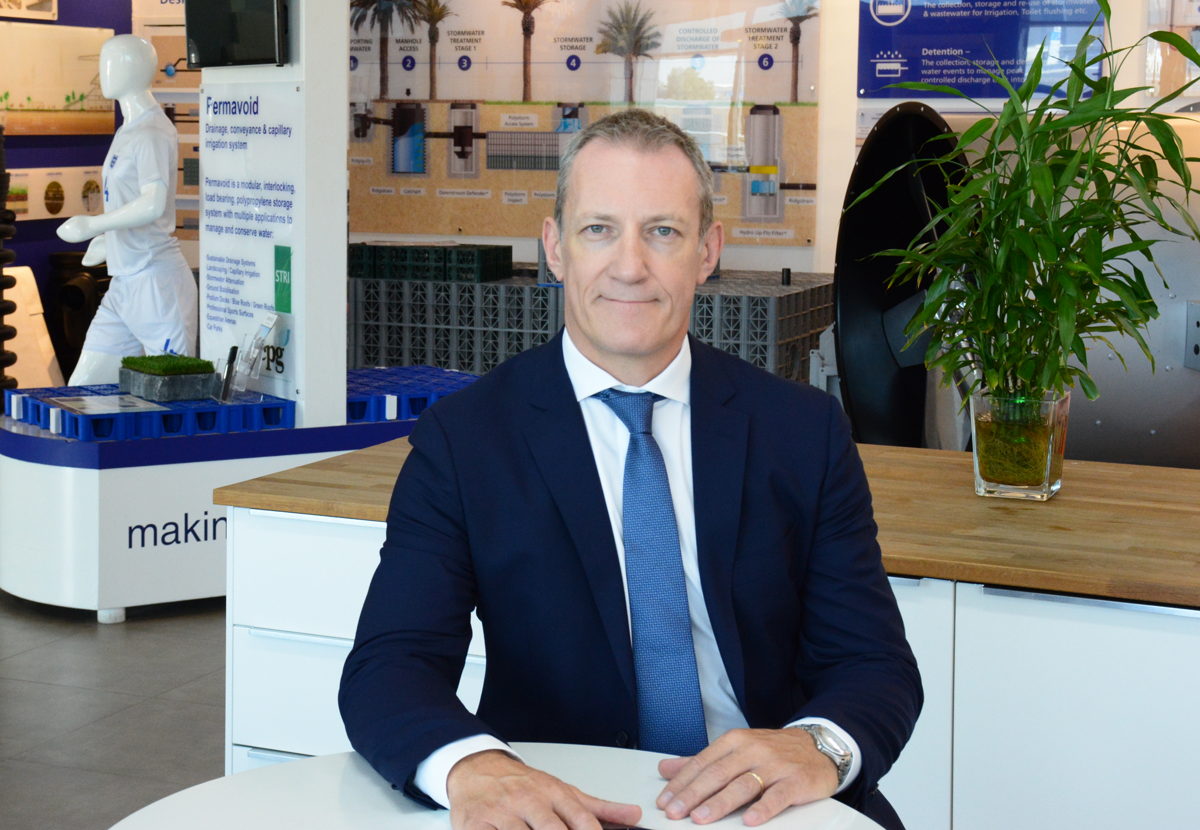 Q: Why are you participating in The Big 5 Saudi?
A: With a special focus on tall buildings in the Middle East, we have been specified on numerous high-profile high rise projects in the region with our sustainable climate and water management solutions. As for Saudi Arabia, we've been looking into entering this market for a while now as we are aware of its huge potential. Having previously exhibited at The Big 5 exhibition in Dubai with great success, this year we made a decision to take the opportunity and participate in The Big 5 Saudi for the first time. We believe that now is the right time for us to enter the market in Saudi Arabia and The Big 5 show in Jeddah presents us with an opportunity to meet potential new partners as well as to fully understand the market dynamics and drivers that will deliver the projected growth in the construction sector in the years to come.
Q: What are the major opportunities for your brand in Saudi Arabia?
A: Polypipe has a long history in the Middle East and we have developed a strong presence and large market share for our water management solutions around the region through our model of a local presence, strong specifications, in-region manufacturing and a dedicated network of distribution partners. Quality, innovation and our strategy of placing our customers, their markets and the environment at the heart of everything that we do have helped drive our continuous growth in key markets like the UAE or Kuwait.
For Polypipe Middle East, Saudi Arabia represents the next stage in our evolution in the region. Game-changing projects such as The Red Sea Project, Neom, the Maritime City, and the Qiddiya Entertainment City present huge opportunities for Polypipe Middle East to deliver our tried and tested water management solutions to key infrastructure and development projects around the Kingdom.
Q: Have you already developed or worked on projects in the GCC region?
A: Being a market leader in the UK, we have achieved many success stories and also received recognitions, such as being named a Business Superbrand in 2018 in the construction category by Superbrands UK. We also received the Queen's Award for Enterprise International Trade in 2016, recognising our outstanding achievement and contribution to the global export trade.
Last year we celebrated 60 years of our signature drainage brand Terrain in the Middle East and we are proud to say that we contributed to many high-profile developments in the region since.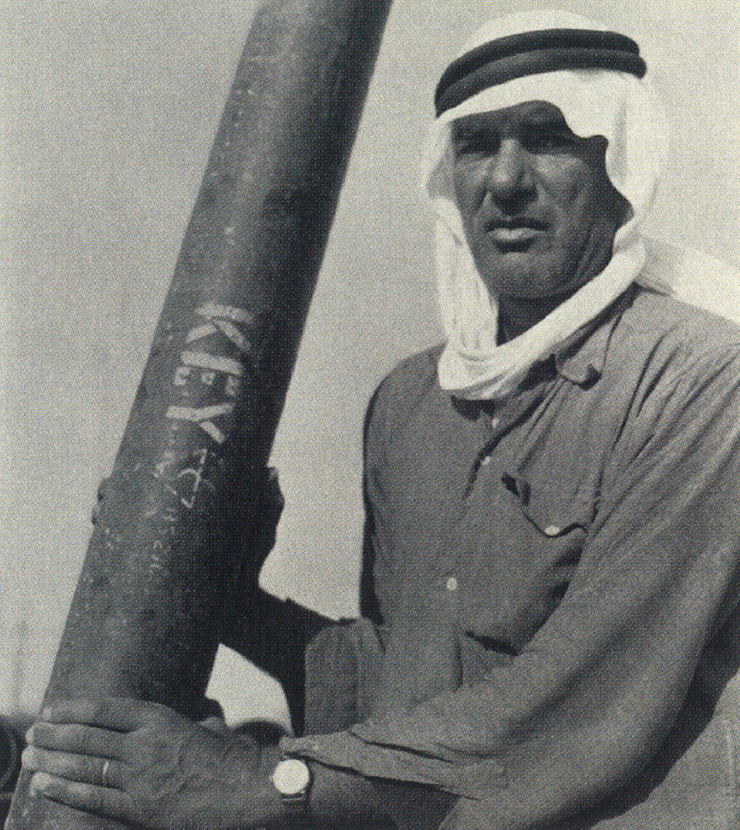 Some of the projects we have supplied our solutions to include Marina Gate, Royal Atlantis, Dubai Arena, Bee'ah Headquarters, Gate Avenue DIFC and Bluewaters Island. We also contributed towards the sustainable construction of Expo 2020 in Dubai and 20,461 m2 of our product Permavoid has been installed across the Thematic districts, providing 1.65 million liters of stormwater storage. On another case in Oman, we provided significant cost and time savings at the National Bank of Oman Headquarters in Muscat and delivered a unique solution comprising of a 3,400 m2 Permavoid tank, designed to sit below the podium deck and mitigate the impact of stormwater events, whilst also replacing much traditional underslung pipework and allowing more usable space back to the client.
Q: What innovative Products/Solutions did your company develop?
A: Our technical credentials follow our quality platform. We invest heavily in research and new product development to create some of the best solutions in the construction industry today – enhanced with intelligent Smart technology.
For instance, our engineered geocellular water management solution Permavoid has received two nominations last year, one of which in the category "Product Innovation" at the Big Project ME Awards in Dubai.
Q: What product will you present at The Big 5 Saudi 2019?
A: Permavoid provides innovative drainage solution in urban settings and is one of the products we will be presenting during the show. It is a geocellular interlocking system, designed for shallow water storage or infiltration. The system has an exceptionally high compressive and tensile strength and bending resistance with a unique patented tapered jointing system to create a horizontal structural 'raft' within the pavement that is ideal for the shallow attenuation of surface water. The system can also be combined in layers using interlocking shear connectors to increase depth. This is particularly useful in designing infiltration systems, allowing flexibility in balancing the soil permeability.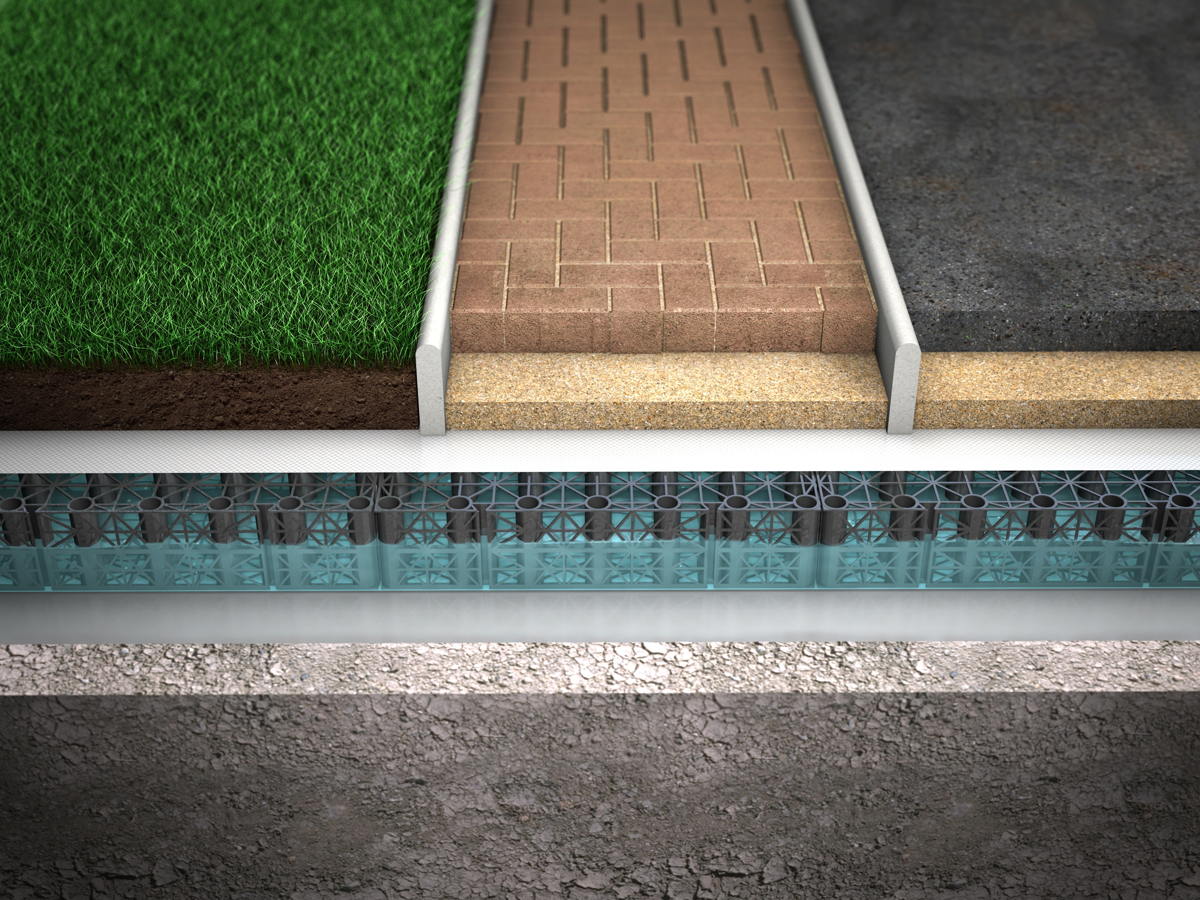 Polystorm is another modular stormwater management solution. Its structurally strong cells can be built up to form a structure of any shape or size. The system is used to provide detention, attenuation or infiltration/soakaway at a variety of depths and can accommodate a wide range of traffic loadings, from pedestrian to large heavy goods vehicle parks. Polystorm was selected for Jebel Ali Hills, thanks to the versatility it provided to the project, as well as being fast and easy to install. More than 70,000 m3 of Polystorm cells have been installed across the area, helping to prevent flooding on site.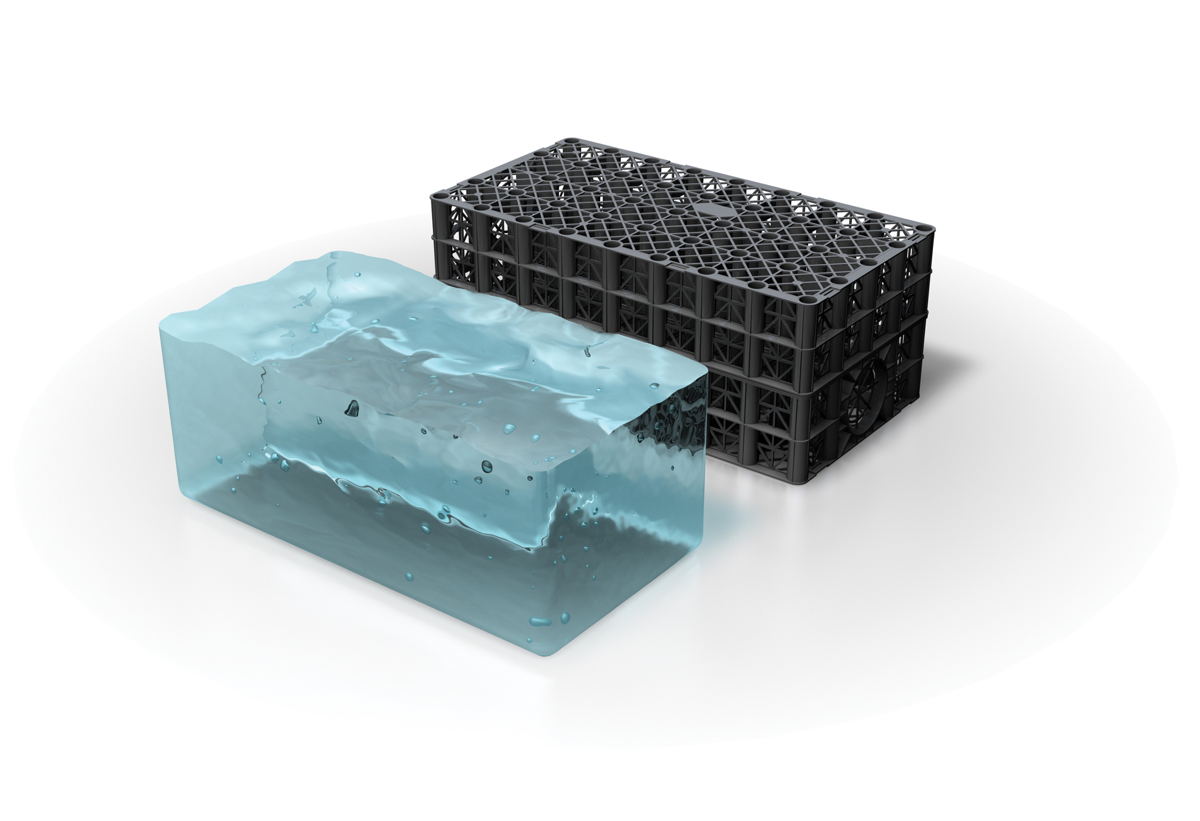 Since every project site is unique, different ground conditions, project requirements and design considerations will have an influence on the drainage system selected.
Q: Why are they innovative?
A: Taking the example of our award-nominated product Permavoid, the system not only intercepts and manages storm water helping to prevent flooding, but also manages it efficiently and effectively. The 95% void ratio of the Permavoid capillary cells allow a high volume of stormwater to be stored within the system, before being moved up through the cell via capillary action. Capillary irrigation activates only when the plants are evaporating water and is a 100% 'on-demand' natural irrigation system, requiring no energy for pumping, hoses or conveyance, and eliminates water losses due to surface evaporation; just like nature.
Collected water through the Permavoid systems can be used for effective irrigation of roofs, podium decks or landscaped areas and can create much needed amenities such as roof gardens, roof cafes, roof playgrounds, roof running tracks or community parks. This process can help reduce the strain on sewers, for example whilst repurposing rainwater can also help lessen the strain on potable water. Through clever design, seemingly traditionally unused areas such as roofs can become vibrant meeting places, relaxing oasis and usable spaces.
Including Blue-Green Infrastructure in urban environments also supports to cool inner cities, offset the Urban Heat Island effect and, ultimately, helps to create places where people want to be and where biodiversity can thrive. Using greenery to cool a building can also conserve energy, reduce the need for air conditioning and cut carbon emissions in the process.
Below some Infographics that showcase our solutions and their benefits.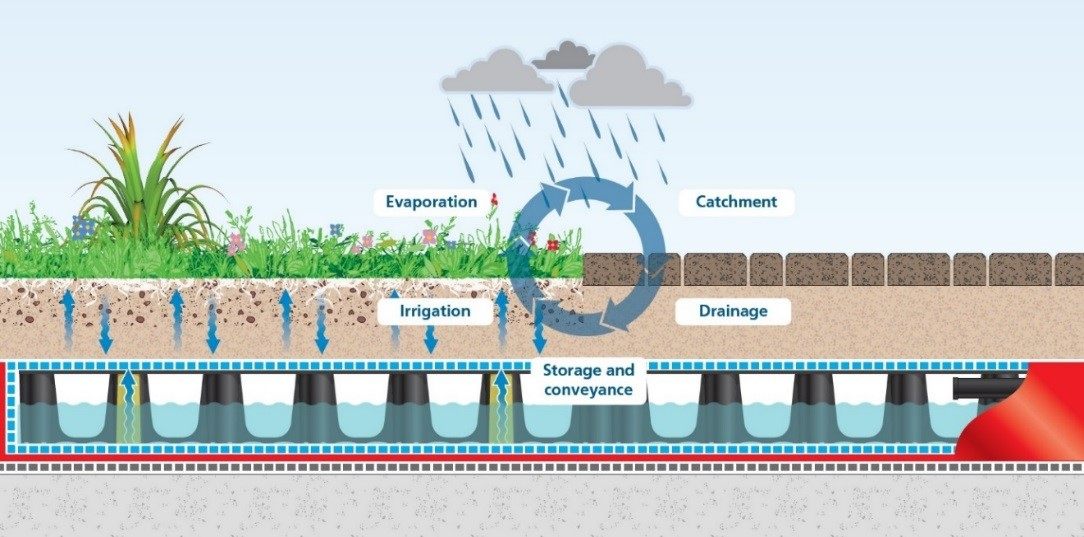 Discover more about Polypipe Middle East at The Big 5 Saudi 2019 - stand 2D96.
Register for free to attend Saudi's premier construction show from 10-13 March, Jeddah Centre for Forums & Events at this LINK.